Chicano Magazine's
NITE CLUBS, BARS & STOMPS
ARTISTS, GROUPS & MUSICIANS DIRECTORY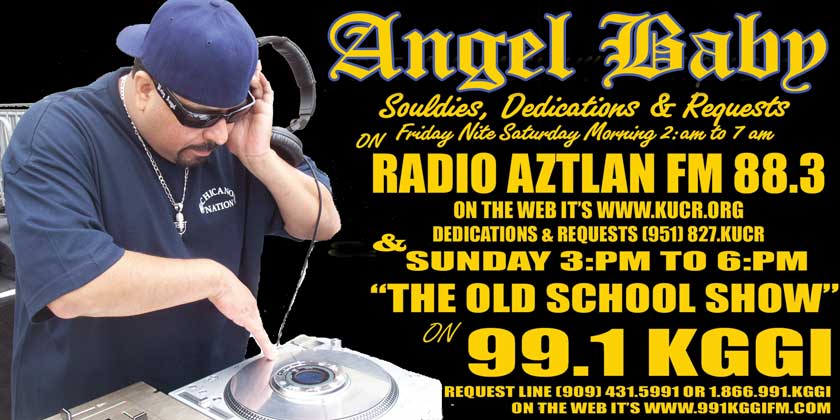 Last Updated MARCH 2014





THEE MIDNITERS LIVE ON STAGE FEATURING GREG ESPARZA


---
Angel Lebron y Su Sabor Latino
CARMEN ORTIZ, DREAM ENTERPRISES
You can Visit them http://www.nycdreamenterprises.com/home

---
ORIGINAL MIKES
STUDIO 51 HOT DJ RICO & LIVE BANDS ALL NIGHT!!
100 South Main Street, Downtown Santa Ana 714 550.7764


LIVE ON STAGE

TBA

TUES & WEDS NITES ...KARAOKE, DJ RICO, LIVE MUSIC !!

FRIDAY & SATURDAY And SUNDAY NITES ... LIVE MUSIC !!
An Evening of Zumba dancing every Sunday

Dance to live music every Friday, Sat & Sunday
Redwine, Smooth Touch, Sangria, Balance, Rhythm Kings
Soto, Derek Bordeaux, Big Rockin' Daddy, Vintage Rockers

WEDS...DEREK BORDEAUX BAND plus KARAOKE WITH JULIAN MIRANDA
THRUS...DJ RICO, LIVE BANDS

HAPPY HOUR Monday - Friday 4p - 7pm Saturday and Sunday 12p - 4pm


Business Hours
Sunday 11am - 10pm
Monday 11am - 3pm
Tues - Thurs 11am - Midnight
Friday - Saturday 11am - 2am

LIVE ON STAGE ...

TBA

Visit www.originalmikes.com



---

STEVENS STEAK HOUSE
5332 Stevens Place, Commerce 90040 323.761.6496

LIVE ON STAGE
EAST L.A. ALL STARS
Ray Carrion, Rocky Padilla, Sal Rodrigues, Joey Navarro
Special guest every show !!Sunday 12:00 PM - 6:00 PM Buffet & Dance Show. All Ages Price $20


---

NICK'S TASTE OF TEXAS



LIVE ON STAGE
MARCH 2 ...GRUPO ALEGRIA
MARCH 15 ... CHICO
MARCH 16 ... FRONTERA 4
MARCH 23 ... VALOR NORTENO
MARCH 30 ... RAICES DEL NORTE

Best Tex-Mex Recipes and Homemade Flour Tortillas
545 N. Citrus, Covina, CA 91723 (626) 331-2824
(Between San Bernardino Road and Front Street)

Monday 11 a.m.-8 p.m.
Friday 11 a.m.-9 p.m.
Tuesday Closed
Saturday 11 a.m.-9 p.m.
Wednesday 11 a.m.-8 p.m.
Sunday 8:30 a.m.-8 p.m.
Thursday 11 a.m.-8 p.m.
Breakfast Served Saturday 11 a.m.- 1:30 p.m.
Sunday 8:30 a.m.-1:30 p.m.

Taste It! Recipes From The Heart
Nick's Taste of Texas Now on Facebook. Become a Fan!!

---


GRINGOS aka THE MONTEBELLO INN
624 Whittier Blvd., Montebello 323.722.2927
Montebello Inn has changed owners; new club name is Gringos

ON STAGE
CHICANO LEGENDS CONCERT March 21-22

Old School, Funk, Cumbias, Oldies, Latin, Top 40
DJ AL. Info: 562.695.3436
21 and over * Drink specials all night

---

ARTURO'S CANTINA & GRILL
2512 West Orangethrope, Fullerton 92833-4208 714.879.0108
Live muisc begins 9:00 - 1:30 AM

DISCO SATURDAY NITES * LATINO ON SUNDAY NITES !!
LIVE BANDS ON STAGE


---

SANTA FE SPRINGS SWAP MEET
13963 Alondra Blvd., Santa Fe Springs 90670

LIVE ON STAGE

tba


SHOW TIMES FOR ALL SHOWS
Friday Night 7:00 PM, 8:30 PM, 10:00 PM
Saturday/Sunday 12 Noon, 1:30 PM, 3:30 PM




---

MAGGIE'S PUB
11900 Telepraph Rd., Santa Fe Springs 90670, 562.944.5399
LIVE BANDS ON STAGE
MARCH 2 ... SANGRIA
MARCH 9 ... LRS/XPOSURE
MARCH 16 ... SOTO
MARCH 29 ... TIERRA
MARCH 30 ... SUAVE

APRIL 6 ... SANGRIA
APRIL 13... BUMPTOWN
APRIL 20... LRS/XPOSURE
APRIL 27... SUAVE

MAY 4... SANGRIA
MAY 11...THE REEL BAND
MAY 18... B.B. WOLF
MAY 25...SUAVE


---
THE GUEST HOUSE/Sash Lounge
aka Ramada, Saddleback Inn
12500 Firestone Blvd., Norwalk, CA 90650 562.868.0991
$2.00 Cover charge after 8:00pm. 6:00pm- 1:15am

LIVE MUSIC ON STAGE ...

SANGRIA

Live music every sunday begins 6:30 - 10:30 PM






---
LAKEWOOD HOP




LIVE ON STAGE


For Guest list info & Party Reservations call: STEVEN CAUDILLO, PR Director
Lakewood Hop 562-630-2229 or 310.367.8439 (cell)
Visit their Website www.lakewoodhop.com, Email: lakewoodhop@earthlink.net
Join Us for Happy Hour 4:30-7PM $2 drink specials, Complimentary Buffet, Free admission B4 7 PM

DJ YNOT Spinning Old School, Flashbacks
Todays Top 40 Hits, and Latin Grooves
PLUS ... $3 TEQUILA DRINK SPECIALS, ALL NIGHT LONG
PARTY RESERVATIONS AVAILABLE

The Lakewood Hop
5201 Clark Avenue, Lakewood, CA 562.630.2229

Lakewood Hop for more info 562.630.2229
Visit their web site at www.lakewoodhop.com





---
CRAZY HORSE



1360 W. Garvey Ave S. West Covina, CA 91790. 626-962-8700
Website: http://www.go2crazyhorse.com

Nightclub Schedule:

Wednesday Night- Country Night~ 4pm
Happy Hour 4-7pm~ Drink & Food Specials
"Paul Justin & The Saloonitixx" Performs
Dance Lessons with Devera~ 6:30pm
Thursday Night- Lucky Lounge~ 8pm
80's & Top 40
Happy Hour 4pm~ Drink & Food Specials

Friday Night- Retro Weekend~ 7pm

Happy Hour 4-7pm~ Drink & Food Specials

"Disco Inferno"~ Band

DJ Danny

Saturday Night- Retro Weekend Continues~ 7pm
Live Disco Band

"Bootiequake"~ Band

DJ Danny

Sunday Night- GEO-Latin Productions~ 8pm

Latin Rock/R & B/Latin Rhythms

ARTISTS


---

Radisson * Club 201
LIVE BANDS ON STAGE
7320 Greenleaf Ave., Whittier, 90602-562.945.8511
2 Dance Floors, 2 Stages, 2 Bars & More !!


---

SPAGHETTINI ITALIAN GRILL AND LOUNGE
3005 Old Ranch Parkway, Seal Beach, CA 90740 562.2199, 714.960.6002
Known for great jazz rhythm and blues music !!
LIVE ON STAGE ... DW3

Past special guest have included
EVELYN CHAMPAGNE KING, EDNA WRIGHT OF THE HONEY CONE, TIERRA


---
The Green Turtle
11464 WHITTIER BLVD, WHITTIER,CA 90601 626-409-1919

DJ SMOOTH TONIGHT @ THE GREEN TURTLE 80'S, 90'S, OLD SCHOOL, FREESTYLE, CUMBIAS, FUNK AND MUCH MORE !!
ONLY $3.00 TO GET IN ALL NIGHT! SEE YOU THERE!!

Total 80's Thursday's - Live Band Friday's

Info: Midnight Productions 626.406.1919
Keith Allen (626) 646-9970, Cory Silva (626) 409-1919-Or-the Green Turtle 562.699-2882
Free Parking!-Drink Specials



---


CICADA
DJ Al Huerta www.disconights.biz
617 Olive Street, Los Angeles, between 6 & 7th Street


---

CAMACHOS
Camachos 13101 Crossroads Parkway, City of Industry, CA 91747, 951.217.2248




LA CONGA
465 West 7th Street, San Pedro, 310.833.3388





A MI HACIENDA
9613 Whittier Blvd., Pico Rivera, CA 562.699.2500

LIVE ON STAGE ...
TBA

---

ALTERNATIVE-LIFESTYLE CLUB GUIDE
Where The Boys Are
GIRLS JUST WANNA HAVE FUN

RIPPLES, LONG BEACH
5101 E. Ocean Blvd, Long Beach, 90803,
USClub "ONE" @ Club Ripples
"Something for EveryONE!" - - Hot GoGo Men - Dance Crew Serious Effect - DJ Lobo Spins the Hottest Mix - Only @ Club Ripples
5,4,3,2,1 Drink Specials !!


BRAVO State College 1490 South Anaheim Blvd., Anaheim 714.553.2291

BUTTERFLY LOUNGE aka Lions Den
719 West 19th Street, Costa Mesa 949.642.2243 Friday's Latino Gay Night
Saturday BBW Night "Hot Mamas"

CHICO'S
Welcome to CHICO, the hottest latin gay bar in Los Angeles.
Our club features the best Hip Hop, Musica Latina & Old School.
Located in East LA minutes from downtown Los Angeles in the heart of Montebello
(the entrance to the San Gabriel Valley) just 15 minutes from Hollywood and Long Beach.
Fridays - Flashback Fridays with DJ Frank, hosted by Jazzmun.
$2 Coronas Till Midnight. Asombroso Shot Specials All Night
Saturdays - DJ Brett spins Hip Hop, R&B, Old Skool and Musica Latina. $2.00 Tecate
Sundays - Cruise at CHICO with $3.75 Long Beach Ice Teas till midnight.

FRAT HOUSE
Friday, Saturday Dance Night
Garden Grove Blvd. @ Beach Blvd.

LIONS DEN
719 West 19th Street, Costa Mesa 949.642.2243 Friday's Latino Gay Night
Saturday BBW Night "Hot Mamas"




---

ARTISTS, GROUPS & MUSICIANS DIRECTORY
Artists, Bands & Groups for Bookings ...
Nite Clubs, Shows, Events, Car Shows, Parties, Weddings !!


ANGEL
www.nycdreamenterprises.com/home

APB
APB Music P.O. Box 1318, Hollywood California 90093
Email: info@apbmusic.org
www.apbmusic.org

BALANCE
Email: jim(at)thebalanceband.com
www.thebalanceband.com

BARELA
Tony Barela 714-730-8272, Richard Barela 714-544-1310
Email aabarela123@sbcglobal.net, r.barela@sbcglobal.net
www.barelaband.com

BLUES STRAIGHT UP
Tel 323.223.8167
Email: straightup@att.net
www.bluesstraightup.com

CHICO
Joe Espinosa 323-222-1569 www.chicoband.com

COMPANY BAND
www.thecompanyband-tcb.com

COLDDUCK
Email: coldduckband@yahoo
Contact: Jose Cuadra 562.577.3532
Website: www.coldduck.com

Cold Duck is available to play for your Wedding, Anniversary, Party or Birthday Party
Corporate Function, or any other event you may be planning
For Booking Information contact Jose Cuadra at (562) 577-3532
e-mail coldduckband@ yahoo.com
Cold Duck and QuackUp Records is represented by Cold Duck Productions Inc.

DELGADO BROTHERS
www.delgadobrothers.com

EASTSIDE L.A.REVUE BAND
Steven Chavez, Manager 951 653-7777
Email: stevenchavez68@hotmail.com
www.eastLArevue.com

GROOVE, THE
www.thegrooveonline.net

IMPACT
www.impactmusik.com

IMPULSE
Dennis Ulibarri, 909.374.8153
www.theimpulseband.com

L.A. BLUE
Email: LABLUEBAND@aol.com
Tony lablueband@aol.com
Aaron labluemusic@yahoo.com
Larry Lmiramontes@msn.com
www.labluemusic.com

L.A. RHYTHM KINGS
The L.A. Rhythm Kings - Cornerstone 2000, Inc.
P.O. Box 4163, Dana Point, CA 92629
PHONE: 714-307-0009, FAX: 949-830-9522
E-mail: Paul@larhythmkings.com
www.larhythmkings.com

MAD LATINS, THEE
Contact: Louie Para 562.686.4952
Email: themadlatins@msn.com
www.theemadlatinsband.com

MONTCLAIRS, THEE
Email: theemontclairs@yahoo.com
www.theemontclairs.com
Jerry Chavarria, info: 626/633-6477

REDWINE
Red 714.630.1938

SANGRE FRIA
SFM Productions 818.400.8904
Mangement 818.324.9378 www.sangrefriamusic.com
Fan site www.myspace.com/sangrefria

SANGRIA
Rates or immediate info call DAN RIOS at: (562)413-3979
Sangria Band Fax Line (562)562-692-3010
www.sangriaband.net

SATISFACTION
Chris Reserva (310) 626-3531, Jimmy Silva (714) 995-8421
Email: chris@satisfactionband.com
www.satisfactionband.com

SMOOTH TOUCH
Contact: Sarah
Email: thebandsmoothtouch@yahoo.com
www.thebandsmoothtouch.com

SOTO
S.E.G. Entertainment Group
P.O. Box 1992 , Norwalk California U.S.A. 90650
Office: 626. 330 9413 Fax: 626.330 1843
Email: soto@sotoband.com
www.sotoband.com

SUAVE
www.suavetheband.com

TABU
website: www.tabuband.com
Bookings & Shows Contact: Al Trainor 626.922.9385
Email: trnrcham@aol.com
http://www.myspace.com/tabutheband

TOUCH THE BAND
1st contact: Raymond Juarez - 626-348-6185
2nd contact: A.J. Avila - 626-290-1528
3rd contact: Alma Gonzalez - 323-633-4302
Website: www.touchtheband.info
Email: music@touchtheband.info
Alt. Email: almarjaj@sbcglobal.net

TRUE RHYTHM SOUL
www.truerhythmsoul.com
Contact: Tom Gonzales 714.745.6864


---

THE HISTORIAL MENDEZ V. WESTMINSTER SCHOOL DISTRICT
MENDEZ WALK HELD IN ORANGE MAY 8, 2004




(Source: chicano magazine) Rare photos from the Sylvia Mendez Collection




(Source: chicano magazine)




---

JUMP IN THE LA BAMBA ... AND LET'S GO!!

KNOTTS BERRY FARM 8039 Beach Blvd., Buena Park 714.220.5200
SANTA ANA ZOO 1801 East Chestnut, Santa Ana 714.835.7484
DISNEYLAND 1313 Harbor Boulevard, Anaheim 714.781.4565
WILD RIVERS WATERPARK 8770 Irvine Center Drive, Irvine 949.788.0808
BALBOA FUN ZONE 600 E. Bay, Balboa 949.673.0408
UNIVERSAL STUDIOS 800. UNIVERSAL
MAGIC MOUNTAIN Magic Mountain Parkway, Valencia 661.255.4111 or 818.367.5965
SEA WORLD Sea World Drive, San Diego 619.226.3901 or 714.939.6212
SAN DIEGO ZOO Balboa Park, San Diego 619.234.3153
LOS ANGELES ZOO 5333 Zoo Drive, Los Angeles 323.644.6400
THE QUEEN MARY 1126 Queens Highway Pier J, Long Beach 562.435.3511
AQUARIUM of the PACIFIC 100 Aquarium Way, Long Beach 562.590.3100



---

CM's DIRECTORY

Big Brothers Big Sisters 714.544.7773
Boy Scouts 714.546.4990
Child Abuse Registry 714.940.1000
Gay and Lesbian Community Services of Orange County 714.534.0961
GED Info 800.331.6316
Graffiti Removal 877.786.7824
Hope House 76.6090 24-HR
Housing Authority OCHA 714.480.2700
Meals On Wheels 714.639.4820
Mental Health, Adult HCA 714.480.6767
New Hope Teen Line 714.639.8336
Orange County Health Care Agency 714.834.8129 Planned Parenthood 714.956.2002
Regional Occupational Program ROP 714.568.3070
Sexual Assault Victims Services 714.834.4317
Suicide Prevention 800.784.2433 24-HOUR
Victory Outreach Santa Ana Women's Home 714.245.2580
Youth Crisis Hotline 800.448.4663
(Source: Chicano Magazine)


---

LA FAMILIA 714 479-0873, IS LOCATED AT 17TH & COLLEGE, SANTA ANA, CALIFORNIA


CHICANO MAGAZINE CARES ABOUT YOU !!

LA FAMILIA IS A PROJECT OF THE CALIFORNIA HISPANIC COMMISSION
ON ALCOHOL AND DRUG ABUSE INC.

La Familia 714 479-0873
Drug Abuse Services A Center For Orange County Latinos
ABOUT THE AGENCY La Familia Alcohol and Drug Abuse Outpatient Counseling Services, Unidos menís Residential Recovery, and Casa Elena Women's Recovery, are all projects of the California Hispanic Commission on Alcohol and Drug Abuse, Inc. All program are bilingual and bi-culturally sensitive and follow a social-clinical model approach. All our programs are approved by the Probation Dept. The services provided include the following:

UNIDOS RESIDENTIAL RECOVERY
9842 W. 13th St. Garden Grove, California 714-531-4624
Thirty-six recovery beds primarily for adult men. The social model structured recovery program is 90 days and offers a structured program with individual counseling, group counseling, group education, recovery planning, 12 steps recovery groups, alcohol/drug abuse education. Unidos Detoxification Services offers a seven day program with easy transition into a recovery program. Six beds are available for adult men.

CASA ELENA WOMENíS RECOVERY
832 S. Anaheim Blvd. Anaheim California 714-772-5580
Casa Elena offers six bed recovery home for adult women. The social model structured program is 90 day residential program and offers a structured program with individual counseling, group counseling, group education, recovery planning, 12 steps recovery groups, alcohol/drug abuse education.

LA FAMILIA ALCOHOL AND DRUG ABUSE OUTPATIENT SERVICES
1905 N. College St. Santa Ana, CA. 714-479-0873
La Familia offers individual counseling, group and family counseling services, alcohol/drug abuse education, recovery planning, 12 steps recovery groups, treatment planning, medical services, assessments, prenatal services, youth prevention programs, and community referrals. La Familia also offers support services, including child-care, transportation and aftercare services upon completion of program.

PAROLEE SERVICE NETWOR/PROP
36-1905 N. College St. Santa Ana, CA 714-479-0120
Offers treatment programs for non-violent drug offenders referred by the County of Orange Health Care Agency. PSN offers individual, group and family counseling as well as medical services and treatment planning.

CAL WORKS FOR ORANGE COUNTY FAMILIES
1905 N. College St. Santa Ana, CA 714-479-0120
Offers individual counseling for families receiving public aid. Support services such as child-care, workshops, support groups, referrals to community programs and transportation.

FUERZAS UNIDAS
1905 N. College St. Santa Ana, CA 714-479-0873
Fuerzas Unidas is a comprehensive program serving young adults between the ages 19-21. The program is to expand the life opportunities for low income, out of school youth residing in the City of Santa Ana. Our program provides supportive services for young adults to overcome barriers that perhaps will hold them back in becoming successful in todayís workforce.

DOMESTIC VIOLENCE
1905 N College, Santa Ana, CA 479-0120
Classes include: Domestic Violence (52 weeks), Child Abuse (52 weeks), Parenting Classes (24 weeks), Victims Program for males and females (12 weeks), Anger Management (12 weeks), Couple Counseling (9 weeks), Monitor Visitations, and much more. We are affordable and fees are based on a sliding scale. SOURCE: YVONNE ELIZANDO, LA FAMILIA

BROUGHT TO YOU BY YOUR FRIENDS AT CHICANO MAGAZINE

Special Thanks to Yvonne Elizando at La Familia
LA FAMILIA 714 479-0873
IS LOCATED AT 17TH & COLLEGE, SANTA ANA, CALIFORNIA

CHICANO MAGAZINE'S GUIDE TO COMMUNITY RESOURCES

ALCOHOL AND DRUG ABUSE SERICES 834.7926

OUTPAINTIENT ALCOHOL & DRUG ABUSE CLINCS County of Orange

ALISO VIEJO 949.643.6930, 949.9344669
ANAHEIM 934.4669
FULLERTION 447.7099
NARCOTIC REPLACEMENT PROGRAM 834.8600
NEWPORT-COSTA MESA 850.8431
SANTA ANA 480.6660
WESTMINISTER 896.7574

LA FAMILIA 479.0120
MARIPOSA 547.6494


RESIDENTIAL DETOX CENTERS
Casa Del Cerro (M&W) 949.661.1200
Stanton Detox (M&W) 229.9105
Unidos (M) 531.4624
Woodglen (M&W) 879.2741
REACH Medical Detox 834.7926

REDSIDENTAL DRUG TREATMENT

CASA ELENA (W) 772.5580
COOPER HOUSE (M&W) 554.1152
GERRY HOUSE 972.1402
GERRY HOUSE 554.2292
HERITAGE HOUSE N 687.0077
HERITAGE HOUSE 949.646.2271
HOPE HOUSE 776.6090
NEW DIRECTIONS 949.548.5546
PHOOENIX HOUSE 953.9373
ROQUE CENTER 839.0608
SALVATION ARMY 758.0414
THE VILLA 541.2732
TOUCHSTONES 639.5542
WOODGLEN 879.0929
CASA DEL CERRO 949.661.1200
UNIDOS 879.2741

METHADONE DETOXMAINTENANCE
Third Street Mathadone 542.3581
West Pac. Fullerton Methadone 992.4770
West Pac. Stanton Methadone 821.5311
County of Orange Narcotic Replacement Program 834.8600


FOOD

ESA 949.367.0497
MARY'S KITCHIN 538.7991
REAL HELP LUTHERAN SOCIAL SERVICES 534.6450
SHARE OUTRSELVES (SOS) 949.642.3451
SMEDA 834.7926


SHELTERS

CASA TERESA (Pregant W 17-25) 538.4860
FRIENDSHIP SHELTER 949.494.6928
O.C. RESCUE MISSION 285.2840
PRECIOUS LIFE SHELTER 562.431.5025
SALVATION ARMY 542.9750
START HOUSE (HIV substance users) 834.7926


SUPPORT SERVICES

Alcoholics Anonymous 773.4357 Narotics Anonymous 776.8581 Back to Life (Hepatitis C) 888.85-LIVER
OTHER RELATED SERVICES

Latino Health Access 542.7792 HIV EDUCATION, PREVENTION AND SERVICES
AIDS Service Foundation 949.809.5700
HIV/AIDS HOTLINES

National Hotline 800.342.AIDS
HIV ANTIBODY TESTING SITES

O.C. Health Care Agency 834.8592
Planned Parenthood 800.230.7526
The Center OC 534.0862


DOMESTIC VIOLENCE AND RAPE CRISIS


Human Options, Inc 949.854.3554
Interval House 891.8121
Laura's House 949.498.1511
Rap Hotline 949.752.1971
WTLC 449.7535
WTLC Domestic Violence Hotline 992.1931


Any updates, numbers out of service, have new resources
email: chicanomagazine@aol.com

BACK TO TOP


MOTOWN, SOUL, OLDIES, CHICANO LEGENDS IN CONCERT
SHOWS & EVENTS

Chicano Magazine's Lowrider Car Show Calender & Events!!
LOWRIDER CAR SHOWS


Chicano Magazine's New CD Releases
Top CD Releases

DO YOU HAVE NEWS ... ARE YOU AN INSIDER?
EMAIL, FAX, MAIL OR CALL US 714 538-4080
Contact Chicano Magazine News Alert


Back to Main Page

Chicano Magazine &copy 2014